Safeguarding Voices
"You are about to hear the voices of a FEW but…
….they speak on behalf of MANY and….
…will resonate with MANY, MANY more."
The Merseyside Safeguarding Adults Board 'Voices' project was designed to capture the safeguarding experiences of both front line staff (broadly defined), users of services and their carers. In addition, we organised an engagement event to showcase a selection of voices – this was held at the Bluecoat Chambers, Liverpool on 25th June 2019.
In order to drive the form and content of this 'Safeguarding Voices' event, a series of repeat discussions/interviews were held with a number of individuals and small/large groups in order to capture the 'voices' of a wide range of stakeholders. The information gathered during these conversations was then used to create a series of 4-500 word 'scripts' which were refined and amended until participants were satisfied with the representation and accuracy of their indicative 'voice'.
Because of the success of both the project and the event, we decided to record eight of the voices and ensure wide accessibility to the film for training, development and/or general interest purposes.
Links to each of the eight individual voices (along with an illustrative extract from each) are as follows:
A Day In The Life (Suzanne: Social Housing)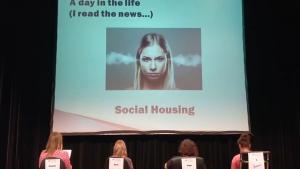 "……We need to be given an opportunity to engage in constructive challenge – if you work with us – everybody learns – everybody wins – we all keep our people safer. When a situation is complex, contested and we disagree – we need you to be open to challenge before declaring 'case closed' and pushing us aside."
Social Housing: A Day in The Life
We Can Work It Out (Dawn: Adult Safeguarding Triage)
"……However, I sometimes wonder who's safeguarding who or what is being 'safeguarded' – is it people covering their own backs, following a directive just because its's there, looking for a magic bullet, an instant solution – or could it be the case that we need to just change some beliefs, behaviours, expectations and  perceptions in relation to the whole area?"
Social Care Triage: We Can Work it Out
A Trip To Paradise (Steph: Community Activism)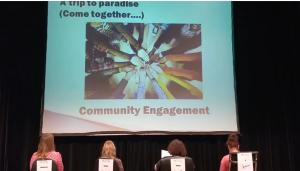 "……'Safeguarding' is not our everyday language – it's our everyday LIVING. It's what we see, what we face, what we support on an ongoing basis across our community……so, I have some simple questions for all safeguarding authorities and services: How connected are you to your local communities – how well do you know them – how often do you get out more?! From our perspective, it's not often enough!"
Community Engagement: A Trip to Paradise
Hello Goodbye (K*: Social Work Practice)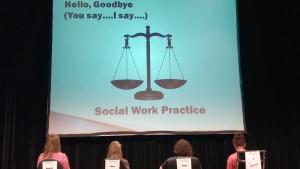 "……Far too often, MSP is seen as something that needs to be RECORDABLE rather than an exercise is demonstrating HOW we made it REAL – just a series of boxes desperately seeking ticks! Job done – move on. Policing practice via this approach is oppressive and, at times, intimidating – when we talk about 'prevention' in relation to safeguarding, I don't think we had the prevention of good practice in mind!"
Social Work Practice: Hello Goodbye
*Voiced by Jade. Unfortunately, 'K' was unavailable on the day of filming.
Day Tipper (Mal & Kathy: Self-Neglect/Hoarding)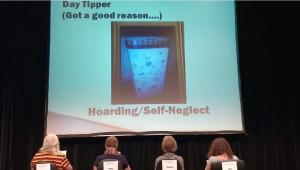 "We don't normally give stuff away, but today, we're going to give you the benefit of our experience – please keep hold of it, don't throw it away – it might come in handy one day. Hoarding is an art – we do it very well. It's part of our way of understanding the world. It is our 'normal' – please don't judge how we choose to live by YOUR standards……hoarding stuff is only a part of what we DO – it is not who we ARE."
Hoarding/Self Neglect: Day Tipper
The Long And Winding Road (Denise: Homelessness*)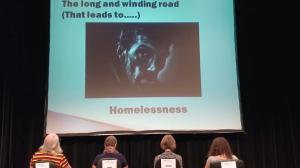 "……I've heard it said that "less is more"……so, when they eventually manage to access mental health services for example, and the appointment is sent to their last 'known address', and they don't receive it because they're no longer there, and they don't turn up for the appointment – nor to the follow up appointment sent in similar vein – that means a trip to the 'two strikes and you're out' resort – less does NOT mean more – in fact, forget 'more', SUFFICIENT would be a good start!"
Homelessness: The Long and Winding Road
*Photo of 'Ray' by Carl Haberla: used with permissions. Instagram: @carlhab)
Yesterday (Jade: Domestic Abuse/Mental Health)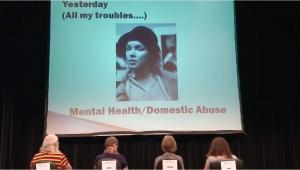 "……It amounted to little more than a spectator sport and the crowd certainly got their moneys worth but the 'mad one' was embarrassed, humiliated and as far away from safe as she could possibly feel. They called me 'mad', they made me angry, I lose my temper they call me 'mad'……. I've heard of something called 'MSP': Making Safeguarding Personal – this was more like an exercise in making safeguarding PUBLIC!….I tried a 'helpline' but they proceeded to lose me at "Hello" with their 'paint by numbers' questioning."
Domestic Abuse/Mental Health: Yesterday
All You Need Is Love (Peter*:Making Safeguarding Personal**)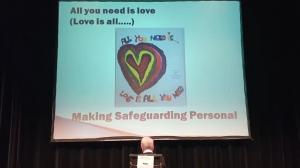 "……I was prepared to leave it to her (Social Worker) and the care people because they'd spent time listening to me, gaining my trust and, as a consequence of that, it was nice for me to return to a trust in expertise – something that had been rocked by the experience of being exploited by someone I had trusted – someone who was supposed  to 'care' for me."
* Voiced by Ian. Unfortunately, Peter was unavailable on the day of filming but we are hoping to audio-record and upload his 'authentic' voice to the site shortly.
** Painting (in slide) by Molly P – used with permission.


Painter: Andrew Banks; abcolourful.com; @abcolourful
 A Merseyside Safeguarding Adults Board production
All Rights Reserved 2019