SARs – National
Please find below SARs and/or Research that has recently been published:
Research in Practice is hosting a webinar on SARs this December, members can book a place at the following link;
https://www.researchinpractice.org.uk/adults/events-training/2020/december/analysis-of-safeguarding-adult-reviews-april-2017-march-2019-findings-for-sector-led-improvement-webinar/ 
The webinar is about the recent National Analysis of SARs undertaken by Prof Michael Preston Shoot, S Braye, O Preston, K Allen and K Spreadbury (2020).
The research involves the analysis of 231 Safeguarding Adult Reviews.  This involved 263 subjects, 129 male and 109 female.  The majority (80%) were deceased.
DECEMBER 2020
Over the festive period MSAB  SAR page is focussing on domestic abuse.  Help and support is available from https://www.womensaid.org.uk
There is a thematic SAR in relation to domestic abuse which can be found in the link below
http://orca.cf.ac.uk/111010/1/Robinson%20Rees%20and%20Dehaghani%20%282018%29%20Thematic%20Review_english.pdf
The five cross cutting themes identified from the coding exercise and confirmed by the focus group discussion were …
CROSSING BOUNDARIES – The room for error seemed to increase when boundaries are 'crossed' or where there is a transition between one type of service user to another, from one service to another, or from one geographic area to another.
 HOODWINKING – Hoodwinking relates to individuals who disguised or manipulated their presentation of self, for example by appearing more benign or better able than they actually are.
 FAULTY ASSESSMENT – The assessments conducted by practitioners tends to focus on particular aspects of behaviour, neglecting others, thereby reducing the overall accuracy of the assessment.
 TUNNEL VISION – There was a tendency for practitioners to focus solely or predominantly on certain aspects of someone's vulnerability or risk, and to exclude or fail to recognise other aspects.
 KNOWLEDGE – It was evident that some sources of knowledge were privileged and therefore dominant.  Professional knowledge took precedence over personal knowledge.
NOVEMBER 2020
In line with Merseyside Safeguarding Adults Awareness Week 16th – 20th November 2020 below are a number of thematic Safeguarding Adult Reviews.  They include self-neglect, financial abuse and mate crime.
Focus on Thematic Reviews
mate-crime-thematic-review-final
Updated_SCR_and_SAR_presentation___Adults_who_self_neglect__1_ (1)

OCTOBER 2020
Focus on Homelessness
In the last 12 months there has been a growing focus on people who are homeless.  More specifically the focus has been on the interface between Homeless Services and Adult Social Care.
Below are two reports recently published in relation to people who are homeless following research.  Also the recently published SAR on Robyn which looks at the impact of homelessness and domestic abuse.
Safeguarding Adult Review : Robyn
A SAR looking at the impact of homelessness and domestic abuse.  The learning from the SAR is available below.
Adi Cooper & Michael Preston-Shoot
Research under taken in relation to Adult Safeguarding and Multiple Exclusion Homelessness (January 2020) addressing the complexity of issues faced by people who are homeless.
01.-Adult-Safeguarding-and-Multiple-Exclusion-Homelessness
King's College, London
King's College has recently produced a report looking at homelessness, rough sleeping and the learning from SARs. It can be found by following the link below;
https://kclpure.kcl.ac.uk/portal/files/116649790/SARs_and_Homelessness_HSCWRU_Report_2019.pdf
National SARs
Mr B – Tower Hamlets SAB
Issues identified:
Complex medical needs
PEG feeding
Non-verbal communication
Key themes:
Lack of integrated and coordinated services across health and social care
Lack of published PEG feeding standards and guidance
Coordination in commissioning and contract monitoring
Care providers who failed to provide appropriate and consistent care
The full report including recommendations can be found here MrBSARFinalReport (1)
Ms F and Mr G – Norfolk SAB
Issues identified:
Dementia
Residents who exhibit violent behaviour
Assaults on residents by other residents
Deterioration in health following hospital discharge
Providing care which is resisted
Key themes:
Lack of professional curiosity
Fora for discussion and information sharing
Ownership and accountability: Management grip
Collaborative working and decision making
Mental Capacity
Managing risk and uncertainity
https://www.norfolksafeguardingadultsboard.info/assets/SAR-REPORTS/MR-G/NSAB-FandG-SAR-FINAL-REPORTPUBLICATION16-01-2020.pdf
Further information can be found on the Norfolk SAB website;
https://www.norfolksafeguardingadultsboard.info/safeguarding-adults-review/sar-mr-g-published-january-2020/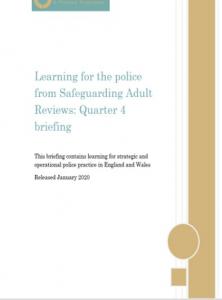 The National College of Policing UK has recently produced research in relation to SARs, the link can be found here;
https://whatworks.college.police.uk/Research/Pages/Vulnerability.aspx
Scroll to the bottom of the page and you will find the link to the SAR briefing – Safeguarding Adults Review – Fourth Briefing
Lancashire SAB – 'May'
May was 70 years old, she was a White British woman and one of non-identical twin girls.  She also had two other sisters and a brother.  May is described as having some learning difficulties, though she worked until being made redundant at 50 years of age.
Following the death of her mother and then her father, she continued to live in the family home with support.  May had complex medical problems and died in July 2018 as a result of sepsis.
LSAB-SAR-Adult-I-report_final-31719
A learning brief has also been published.
Community Care headline in July 2019: Council breached Care Act in case of woman who died of scabies related complications, review finds.
This was a review into the death of Jo-Jo, a woman with Down's Syndrome.  She had been known to Hackney Social Care since March 2007.  Jo-Jo needed support with personal care, diet, finances and maintaining relationships.  She had a history of severe eczema covering her whole body.
Alcohol and Safeguarding Adult Reviews
In 2019 Alcohol Change UK published a report into the prevalence of alcohol misuse issues within Safeguarding Adult Reviews, the link for the report can be found below.
https://alcoholchange.org.uk/publication/learning-from-tragedies-an-analysis-of-alcohol-related-safeguarding-adult-reviews-published-in-2017?utm_source=Stakeholder+list+for+charity+updates+-+CTU&utm_campaign=67d1edd1c4-EMAIL_CAMPAIGN_2019_07_25_01_49&utm_medium=email&utm_term=0_f18a6b7fab-67d1edd1c4-77633265
London Borough of Newham – A thematic review of Safeguarding Adults Review (June 2019)
Newham SAB identified four vulnerable men who died between 2017 and 2018.  The men's cases highlighted similar themes which increased their vulnerability.  These included their age, numerous hospital admissions, limited informal support in the community, concerns of self-neglect or neglect by another and limited engagement with statutory services.
Learning Points;
Professionals need to be competent in communicating with the adult and partner agencies to conduct a holistic risk assessment which should support professional decisions.  All risk assessments should be recorded in a standardised format.
A hospital discharge planning policy and procedure should be embedded that clarifies communication pathways and accountability to support safe and effective discharge for vulnerable adults in the London Borough of Newham.
Partners need to understand the concept of 'safeguarding is everyone's business' and the need to share information and work together to achieve the best outcomes for vulnerable adults.  Local Authority have the legal duty to conduct the safeguarding section 42 enquiry or make sure others do.
Professionals must demonstrate skill and competence in applying the Mental Capacity Act 2005 key principles and statutory duties throughout work with vulnerable adults.  This includes identifying when an individual makes an unwise decision versus the individual not having the ability to make a specific decision.  Professionals should seek legal advice regarding High Court Inherent Jurisdiction applications in cases where the Adult at Risk has capacity, all options to mitigate the risks have been exhausted, and a risk considered in vital or public interest remain.
The Local Authority offer Carers a Carers Assessment to support them in their role.  Care Act 2014.
Advocacy must be offered to an adult to support them in their assessment when they have substantial difficult to engage and there is no appropriate individual to support them though an assessment.  Care Act 2014.