Annual Reports and Business Plans
All future Wirral Safeguarding Adults Annual reports and Business Plans will be available on this page.  Please see below our Annual Reports from our previous Board when we were involved with and known as Merseyside Safeguarding Adults Board.
Merseyside Safeguarding Adults Board Annual Report 2018 -2019  
Please click on the picture below to download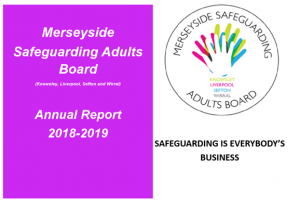 Merseyside Safeguarding Adults Board  Annual Report 2017-2018 and Business Plan 2018-2020
Merseyside Safeguarding Adults Board
The  Merseyside SAB took effect from 1st April 2017 with the inaugural board taking place on Monday 24th April that replaced all previous local arrangements. The Board holds the responsibility for meeting the statutory requirements of SAB's as set out in the Care Act 2014 for all 4 Local Authorities. It is important to note that the Board arrangements do not change local process and procedure for managing safeguarding concerns.
Funding Arrangements
The Combined SAB is jointly funded by the 4 Local Authorities, 4 CCG's (Clinical Commissioning Groups) and Merseyside Police. The Business Unit that supports the management of the Board is hosted by Wirral Local Authority.
Knowsley Safeguarding Adults Annual Report 2015/16
Safeguarding Adults Annual Report published
NHS Digital must be quoted as the source of these figures
Regional data available in this report
15 November 2017
A report presenting information about adult safeguarding enquiries during the 2016/17 financial year has been published  by NHS Digital.
Safeguarding Adults, Annual Report, England 2016/17provides details of how many safeguarding concerns were raised during the year, how many safeguarding enquiries2 were started and how many were completed within that year under Section 42 of the Care Act 20143.
The report breaks down figures on enquiries by the type, location and source of risk, as well as the outcomes of the enquiries.
It also provides a demographic analysis of those individuals who were the subject of a Section 42 enquiry that started within the year.
This is the second year of the Safeguarding Adults Collection since safeguarding became a statutory duty under the Care Act 2014. For this reason it  still has 'Experimental Statistics' as its status. Due to changes in terminology and definitions, care must be taken when comparing data in this report to those published in the Safeguarding Adults Report in 2013/14 and 2014/15.
The Safeguarding Adults Collection only includes cases of suspected abuse where a local authority safeguarding service has been notified and has entered details onto their system. It does not include cases where partner agencies have dealt with the allegation and not shared the information with the local authority. It is likely that there are cases of abuse that have not been reported to local authorities.
Please click on the link below: